I've always been interested in photography since I was a Girl Scout and got my first Brownie Camera. Do any of you remember those? I contented myself with the typical vacation pictures and the teenage parties we used to go to. And, of course, I progressed to the Olympus 35 mm I bought when my husband and I married. I learned to develop my own film, and bored my family and friends with endless landscapes, most of which I can no longer identify. Digital photography, to me, is Man's gift to God…a reflection back to Him of our appreciation of it all. You no longer have to worry about fumbling with rolls of film, or wasting shots, or developing, or even cost. Instead you can instantly trash what you don't want, and enhance your finished piece with software if you so desire. And, of course, the digital camera itself now offers the ability to filter what your camera sees.
Recently I found my true passion – abstract photography. I started looking at the amazing colors, shapes and textures in nature and objects around me. I took a trip to northern Arizona and wandered through the slot canyons where I discovered endless subject matter around every corner. The trick to this kind of photography is to find that which the viewer can interpret and becomes a different work of art to each individual. Even a construction site offers unique possibilities to the camera's eye.
Sometimes you have to go to extremes to get your shots. As I did in Arizona and Utah. It took 2-1/2 hours of bumping around in a Suburban down sandy, little-traveled on roads that I swear the guy driving was making up the road as he went along. I never did find it on a map. But, oh my…when we got there…I ran out of disk space. Every where I turned was a shot. This was the abstract dream of a lifetime.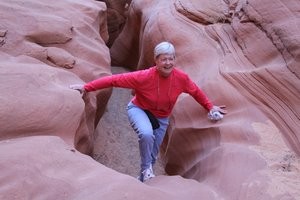 And, now, I have discovered drone photography.  Yes, I'm one of the "nuts" flying a quadricopter that seems to be making the news these days.  No, I will not attempt to land at the White House. In fact, the software now prevents you from flying in certain locations.  I have FAA regulations that I have to follow, and no doubt the government will soon step in to limit the photographer's use even more.  Until then, I am having a ball getting beautiful shots on my home golf course, and at the many places I am privileged to visit.  My drone photo album will continue to grow as I continue my travels.
I hope you enjoy my work and that it will inspire you to look at your world with a "different point of view".
My prints are available for purchase, and I have some custom framed prints as well. Contact me for price and availability.